Many members of the Auckland Property Investors Association are using Trade Me to promote their rental properties to tenants. I was curious to see if other New Zealand areas also used the internet to find new tenants, so did a study of New Zealand Cities.
I looked up the number of properties advertised on Trade Me for each city and compared this to the local population, giving an indication of local usage. The results were interesting.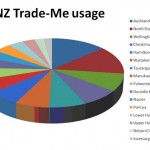 Overall, .2% was the median result for the 16 Cities covered in the study. It appears that the major Cities are the biggest uses of the internet to promote rental properties to tenants. The exception to this was Dunedin City, who had 201 adverts for a population of 119,600, making their result .17 or just under the median.
Having Dunedin being the lowest was consistent with a North/South difference in usage of Trade Me. As can be seen from the Pie Chart above, taking out the larger cities, Trade Me usage fell the further South you went.
It would be interesting to know if Landlords in the South are not high internet users or whether their prospective tenants don't use the internet to find accommodation.
Trade Me has markedly increased it's prices for promoting properties to let this year, now charging $49 instead of $19.95. This makes it a much larger percentage of weekly rental income for Southern Cities compared to Northern. Auckland's average rental price is $413 compared to Invercargill's $186. This makes the cost of a Trade Me advert 12% of a weekly income compared to 27% for Invercargill. It may simply be more cost effective to advertise in the Southland Times or Southland Express. The latter only charges $6.55 for a centimeter classified advert.
It may be that the canny Southlanders know the cost effectiveness of targeted promotion and how their local tenants find accommodation.