The following article was initiated by the Andrew King newsletter, Prime Indicators. If you want to subscribe to this newsletter, see the sign-on  section at the top of this website.
---
Tenants still have the upper hand in the rental market, and real estate agents are urging clients to inject their properties with the wow factor, or drop the rent if they want to fill them quickly.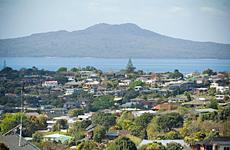 Andrew King, vice-president of the New Zealand Property Investors' Federation, says it's common to experience a flood of rental listings during the slump phase of the property cycle.
"In a slow market, tenants have a high degree of choice and often face nervous landlords who may be willing to reduce rents just to secure a tenant," he says.
King monitors TradeMe rental listings, and says May and June saw the number increase by 50 per cent from about 6800 to more than 10,000.
While growth in the number of listings has slowed by about 10 per cent during the past 10 weeks in many areas, prospective tenants are still generally spoilt for choice.
Rental listings in Auckland city are up 40 per cent from early May, and are up 25 per cent on the North Shore, 55 per cent in Waitakere, 20 per cent in Manukau and up by 40 per cent in Papakura.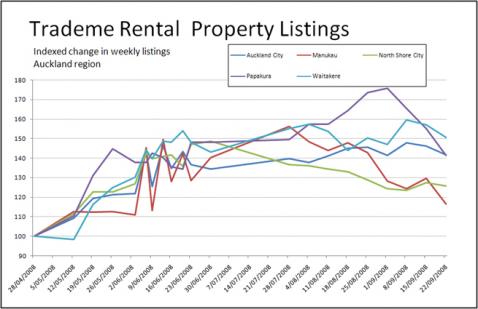 Tauranga and Whangarei have 60 per cent more listings than in May.
During August, the number of rentals listed in Hamilton was 90 per cent higher than in May.
If they want to secure good tenants quickly, King urges landlords to present their property attractively and use various avenues to promote it.
Auckland professional Rachel Rae, 36, is pleased she decided to look for a new rental property this month. She and her flatmate moved from a trendy two-bedroom Herne Bay apartment to a spacious three-bedroom home in the beachside suburb of Torbay on Auckland's North Shore last week.
Rae says they found there were "stacks" of attractively priced rental properties on the shore and faced little competition from other renters.
For the same rent as they were paying for the Herne Bay apartment, they found a home with twice the floor space, an extra bedroom, plenty of outdoor living and a sea view.
And because they held the bargaining power, they were able to sway the landlord into allowing them to move in with a cat and dog. Rae is working in Albany so wasn't worried about moving from the central city.
Sylvia Lund, owner of Just Rentals, which lets properties in Auckland's Remuera, Meadowbank and St Johns, says August was the toughest month for rentals its office has experienced in the past nine years. "The phone just isn't ringing."
With an influx of rental properties, mostly homeowners choosing to hold off selling until the market turns, Lund says tenants want rent reductions.
She says some properties sit vacant for up to six weeks, while earlier this year the process took half as long.
Last week, after struggling to fill a two-bedroom Kohimarama property near the beach for $420 per week, her office advised the landlord to drop the asking price to $380 per week, but still did not get a nibble of interest.
"There are too many properties and no sense of urgency [among renters]," Lund says.
Crockers Property Group's list of median rental prices in Auckland's suburbs show the popular or posh suburbs – such as the bays, Epsom, Sandringham, Devonport, Birkenhead, Remuera and Orewa – experienced rent reductions of between 1 and 22 per cent during last month, with one- and two-bedroom homes taking the greatest hit.
Demand remains strong in trendy, city-fringe suburbs such as Ponsonby, Grey Lynn and Herne Bay, but Huw Evans, rental manager at Barfoot & Thompson's Ponsonby branch, says it is more difficult to fill the one- and two-bedroom properties.
"There are definitely more sharing groups and people looking to squeeze into properties to reduce rent per room – such as couples sharing," he says. In one morning last week, Evans had four inquiries from groups of four wanting to occupy a three-bedroom property.
Three-bedroom homes priced between $550 and $700 generate the most response when listed, but Evans says they are not fetching premiums achieved for similar properties last spring.
"Everyone is looking for a bargain," he says. "We recently reduced a rental price by $70 a week, just to get one phone inquiry."
Evans has a tenant living in a Herne Bay apartment who, for the first time in many years, will be re-fixing his tenancy at a $30 less per week when his new tenancy commences.
"I had to explain to the landlord there would be no way I could achieve that premium price [$430 per week for a one-bedroom Herne Bay apartment reducing to $400] should he vacate and I was to re-let it in today's market," Evans says.
Agents from Barfoot offices in Mairangi Bay, Dannemora, Papakura, Milford, Glenfield and Mt Albert all say the market is oversupplied.
The Dannemora office says landlords should be prepared to wait for up to five weeks to fill their property, depending on the rent they are asking, and be prepared to knock $10 to $15 off the asking price.
There is also a large surplus of properties in Glenfield, and tenants are getting more for their money as landlords reduce the rent.
The Papakura office says it is particularly struggling to fill homes in Tuakau. In one instance, a landlord waited three weeks to let a property despite dropping the rent by $40.
Another near-new property which has been empty for more than a month is now advertising a negotiable rent – the landlord will be looking at a rent reduction of $50 per week.
In Mt Albert and surrounding suburbs, landlords can expect to wait up to six weeks to let a property and keep reducing the rent until it is let. The Barfoot office says selective tenants are snapping up the tidy properties first.
Brian Hancock, director of Quinovich Hamilton and president of the Waikato Property Investors' Association, says it is definitely harder to rent properties in Hamilton than it was six months ago, but he hasn't noticed a huge reduction in price.
He believes this is due to his company urging all landlords to present properties as immaculately as possible.
"If you've got a well-presented property, you tend not to have to drop your rent."